Written by Martin Coates
It was a real pleasure to have the opportunity to create a one-page visual summary of the speakers content live during the Auckland SPM Assets Conference on the 14th March 2019. The result may look busy at first glance, but closer inspection will reveal the structure behind this to give connection and insight between the speaker's content.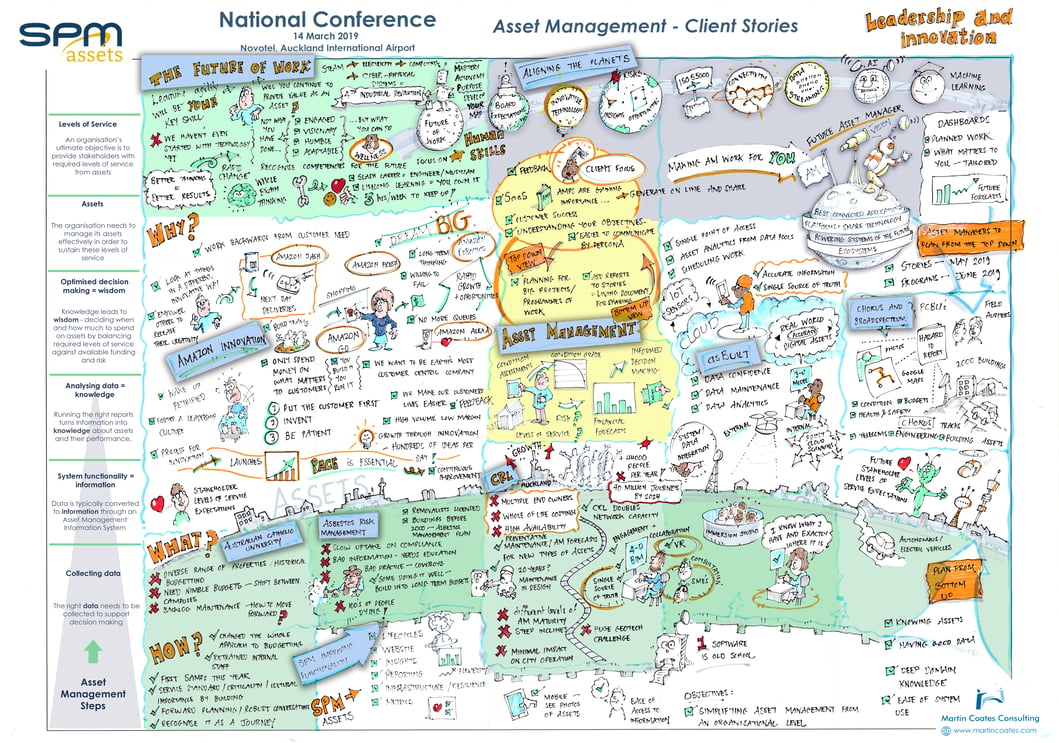 The real world
The real world (represented by physical assets) is shown in the bottom half. This part of the graphic includes insights from those speakers undertaking practical work on physical assets, including:
An innovative approach to nimble budgeting by the Australian Catholic University;
The requirements for effective asbestos management;
A creative way to address asset management challenges associated with the Central Rail Link in Auckland;
Asset data collection through point cloud scanning; and
Challenges associated with implementation of telecom networks across rural New Zealand.
These 'real world' activities are underpinned by SPM Services along the bottom, including the exciting developments that are being developed by SPM Assets to help clients deliver better asset management outcomes in their operational worlds. SPM Asset management services are also presented in the centre of the graphic, based on the recommended SPM Assets approach to have a combined top-down and bottom-up approach to asset management to deliver best for business outcomes.
Strategic concepts
At the top of the page are visual representations of the strategic concepts – including innovation and the future of work. These presentations provided thought-provoking insights into the need for a people-centric view to drive innovation and acceptance of change in a world of exponential digital change.
Effective delivery
At the very top, alignment of the planets represents how delivery of effective asset management practice relies on coordination of key business functions and activities, whilst also recognising the future potential of artificial intelligence and machine learning.
The future asset manager is going to have an exciting role indeed, having access to innovative systems, tools and dashboards for effective forward planning which will result in better informed decisions for managing assets into the future.
The asset management steps on the left portray the key objectives of asset management – remembering that the ultimate objective is to provide expected levels of service for stakeholders.
Communication is a fundamental enabler to driving effective asset management practice. It is hoped that this visual representation helps both those who attended the conference and others seeing this output, to recognise the interwoven nature of asset management practices to deliver optimal outcomes.