With a "We are FM: A Universe of Possibilities" theme the 2017 conference had particular relevance in Houston given the city's resilience and recovery following the recent hurricane and citywide flooding. Education sessions covered topics from global technology trends in facility management, application of artificial intelligence, and information as-builts to optimising space utilisation, business continuity planning, and condition assessment of 2,553 high rise residential buildings for the New York City Housing Authority. The underlying theme was the application and integration of technologies to drive workplace performance, including the use of IoT (internet of things) sensors, building information modelling (BIM), geospatial information, and mixed and augmented reality.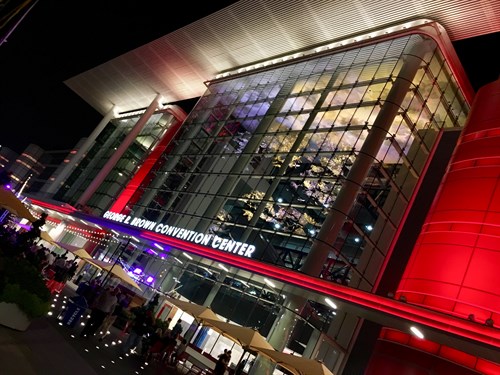 More than 300 exhibitors filled the conference exhibition hall; representing everything from janitorial services to integrated work management systems (IWMS), and providing opportunities to demonstrate and discuss new and emerging technologies, products, and services. Significantly, even the larger IWMS vendors have recognised the need for integration and collaboration with adjacent technologies, systems, information, and data. Data 'lakes' are increasingly common through the integration of sensors, systems, and processes; with data consumed on demand rather than centralised and controlled.
One of the exciting new technologies on display was Google Tango. In less than three years Tango has evolved from a Google initiative to a deployed technology, with Lenovo mobile devices in use during the conference to demonstrate the capture and recording of asset information geospatially within a room. Using mixed and augmented reality, property and facility managers can now access condition and lifecycle information simply by pointing their smartphone at an asset - even those behind walls and in ceiling spaces.
For SPM Assets users the conference reinforced the need for good data, robust analytics, and effective business processes. It also confirms the strengths of the SPM Assets software to meet current and evolving business needs; particularly around building information modelling (BIM), lifecycle modelling, and decision making.
Read the full version of this article on the FMANZ website here.