Attendees at our Auckland and Sydney Conferences last month had the pleasure of listening to Maurice King, who leads the Facilities Management team for Broadspectrum in New Zealand. Broadspectrum operates across Australia and New Zealand within four core sectors, which enables it to efficiently leverage innovative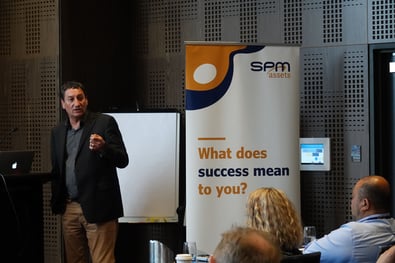 solutions to clients. Maurice's focus is within the social infrastructure sector, specifically Property. Maurice spoke about his experience of working with SPM Assets and our innovative solutions to managing assets, particularly in remote and unusual locations.
Broadspectrum's client, Chorus, is compelled under the Telecommunications Act 2001 to supply and service specific types of telecommunications infrastructure throughout New Zealand. There are also many other pieces of legislation that Chorus must adhere to, including the Health and Safety at Work Act 2015, which must be taken into account when considering its strategic plan for the business. How does Broadspectrum fit into this picture?
With both Chorus and Broadspectrum being a Person Conducting a Business or Undertaking (PCBU), the organisations have a common goal of keeping people safe in the work environment. Chorus has many field personnel who cover significant ground across NZ maintaining their assets, sometimes being in quite remote locations.
How does SPM Assets fit into this picture? We developed tools in conjunction with Broadspectrum to assist in recording Health and Safety risks at the same time as recording condition ratings of assets. Chorus's asset profile consists of:
2,000 building structures.
Overhead power supply lines.
480+ access tracks across private and publicly owned land, ranging from 200 metres to 9.7km.
14,500 cabinets.
Using a range of tools, field auditors were able to plot all relevant GPS coordinates and record location data into the SPM Assets database on an iPad in real time. Auditors are able to record information in the SPM Assets database even when out of Wi-Fi range. There were a number of different processes used to convert the field auditors raw data into two reports that are tailor made for Chorus.
SPM Assets was utilised to:
Record condition ratings of components for buildings.
Record condition ratings for track assets, including location.
Record hazard components, including location.
QR coding system for reading the Broadspectrum-generated site-specific hazard report.
Record asbestos components (pilot programme only).
QR coding system for reading the SPM Assets-generated hazard report.
Work order management for asbestos components review cycle.
Hardware and other IT software used in conjunction with SPM Assets included:
iPads.
Garmin hand-held GPS devices.
iPhone cameras.
GoPro cameras.
360-degree cameras.
Base Camp for GPX Google Map files.
Google Photos.
KMZ Google Earth files.
This innovative process with Broadspectrum and Chorus has improved the overall efficiency of field auditors, and achieved the PCBU's goal of keeping people safe in the workplace.
SPM Assets was proud to be involved in such an innovative project and appreciate Maurice King taking the time to share and reflect on his experience at our Annual Conferences.